So, for the Christmas season of giving, my Mother called me up one day with a request, and I quote..

"Dearest Daughter of mine, won't you please make me some of those fantastic jute monograms? I want to fancy some up for Christmas for my co-workers."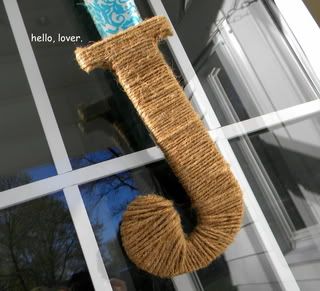 I of course said sure and made some like the little machine I am.
Here's what she did with a few, go Mom..work it.
But, here's the thing.. She didn't need quite as many as I bought so I have an over abundance of monograms in the
house
shop right now, pre-made and ready to ship within 24 hours. So if you're in the market for a monogram they're 12.00
shipped
that's almost half off, peeps! I'm in clean up mode at the house and they gotta go! :)
Head on over here
to purchase one or twenty.
*Note, the monogram you'll receive is not embellished, those are just photos of some that my mother snazzied up. They come plain, and gorgeous as can be au' natural. *

Don't forget, Feature Yourself Friday is back tonight!
10:00ish..
;)