Wanna see more cupcake related projects? Recipes and giveaways? My friend Kimberly is having a Cupcake week! Check it out! :)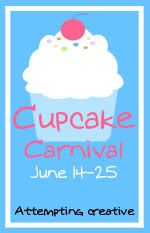 First off I love all things cupcake related. Especially the pretty little stands that go along with it! There are so many different ones out there, and they're super easy to make your own. Want some pretty visuals to get the motors running?
But, recently my favorite obsession are these
little cuties
!
How super adorable would these be for a party? Each party member could have their own personal cupcake stand! Love it! But with a pricetag of 39. 95 for 6 I can't exactly have a huge party and share the cuteness. I wanted to make some of these on the cheap, meaning cheap enough for say-- 50 people if I wanted. I do have a lot of friends with little ones.. Our parties tend to be on the large side! :)
Lets try it shall we?
Needed:
Spray paint primer
Spray paint (I used white to match the inspiration photo, any color could work!)
Super strong glue (Think, gorilla glue which I used or another you like)
Small base circles
Bag of candle sticks (I got the short fat ones, they have tons of styles!)
Glue &Sand & Spray!
See!? Simple!
Finished result?
Glorious!
The stand, not the icingless cupcake :)