Hey fraaannnds, is anyone else freakishly in the mood for Christmas? It's like I'm dying to decorate, listen to Christmas tunes, and watch some fun movies. Can't help myself! Tis' almost the season! Chris is having her annual Handmade Holiday party and I wanted to join in, but--I've yet to make anything, and whatever I make will be a gift for someone and since I think my whole family reads this blog-- I don't want to spoil the secret. :) So these are from last year but trust me, they're oldies but goodies!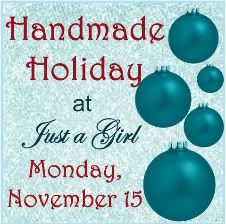 They're also super cheap and easy, the kids can help too!
First things first.. The rootbeer reindeer! Some googly eyes and pipe cleaners, absolutely easiest project ever and they're soo freaking cute. Teachers, grandparents, babysitters think of everyone who would like a little treat!
Then, I got these from Bakerella but she made them as Cowgirl cookies and used pink m&m's I just altered them for Christmas. I added a little sticker on the top for the directions for the wet ingredients and bam! We whipped out a bunch of these on Christmas eve, yeah I was a late planner last year. Maybe that's why this year I'm so ready to start...now..yesterday..last week! ;)
Then last I used some clear ornaments, fake snow, garland clippings and vinyl to make some ornaments for the fam fam. Love them.
So, unfortunately I don't have tutorials for any of these but I think they're self explanatory enough that you'd get it. When I posted about them last year I didn't think about showing people how to make them. Ugh, why don't I think of these things ahead of time. ;)