This is a little for you, a little for my husband.
ha...ha..ha.
But I've been wishin' and hopin' for a few of these items lately and I thought I'd share with you, in case you're in a knee deep search for a gorgeous white watch or griddle.
Source
Source
Source
So how about yourself? Anything you have been crossing your fingers for lately? Share it in the comments and maybe we can add it to OUR wish lists!
Oh, and guess who else is having a birthday this week? My friend Megan over at Fairly Fabulous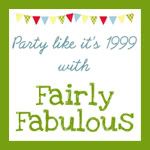 She's hosting a giveaway too, so you'll definitely want to go check it out and give her some birthday lovin'. :)